Controlled Drug Registers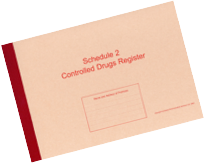 All prices are exclusive of VAT (20%) - Non-members ( Prices held until 31st August 2022)
Statutory Controlled Drugs Register (A4 Size-Schedule 2) £24.26
Doctor's Bag Register (Cheque Book Size to record the obtaining and supply of Schedule 2 Controlled Drugs) £10.65
Controlled Drugs Returns Register (A4 Size (to record the receipt and destruction of prescribed Schedule 2 Controlled Drugs) £17.74
Supply & Administration Register (A4 Size for use in care homes, schools etc.) £24.26
Standard delivery fee is £6.00+vat on orders up to 2kg (for full delivery T&Cs click here).
Please allow 2-4 working days for delivery. Prices are exclusive of VAT (20%).
Please email enquiries@dispex.net to order your Controlled Drugs Registers
Click here for our price list commencing on the 1st September 2022.
Login to see your Dispex Members Only discounted prices