Controlled Drug Registers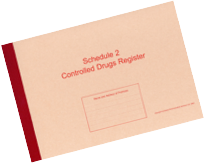 Statutory Controlled Drugs Register (A4 Size-Schedule 2)
Members: £25  Non-members: £35.00+vateach
Doctor's Bag Register (Cheque Book Size to record the obtaining and supply of Schedule 2 Controlled Drugs)
Members:£11  Non-members:  £15.00+vateach
Controlled Drugs Returns Register (A4 Size (to record the receipt and destruction of prescribed Schedule 2 Controlled Drugs)
Members:£15    Non-members:  £20.00+vat each
Supply & Administration Register (A4 Size for use in care homes, schools etc.)
Members: £30    Non-members:  £30.00+vat each
Owing Books
Dispensary owing book, for use when a prescription has been partly completed. The dispensary copy can
either be attached to the prescription or left in the bound book.
Perforated duplicate pages 

Numbered pages

Size 210mm x 99mm

50 pages per book

Member discount applies
2 books DISOB221x2:      £7       
6 books DISOB221x6:      £18     
10 books DISOB221x10:  £26     
Denaturing Kits

1 Packet of 2 x 1 litre jars  £19.68     
2 Litre Jars £18.63                             
All prices are exclusive of VAT (20%)
Minimum standard delivery fee is £6.25+vat on orders up to 2kg (for full delivery T&Cs click here).
Please allow 2-4 working days for delivery. Prices are exclusive of VAT (20%).